50th Anniversary Giveaway!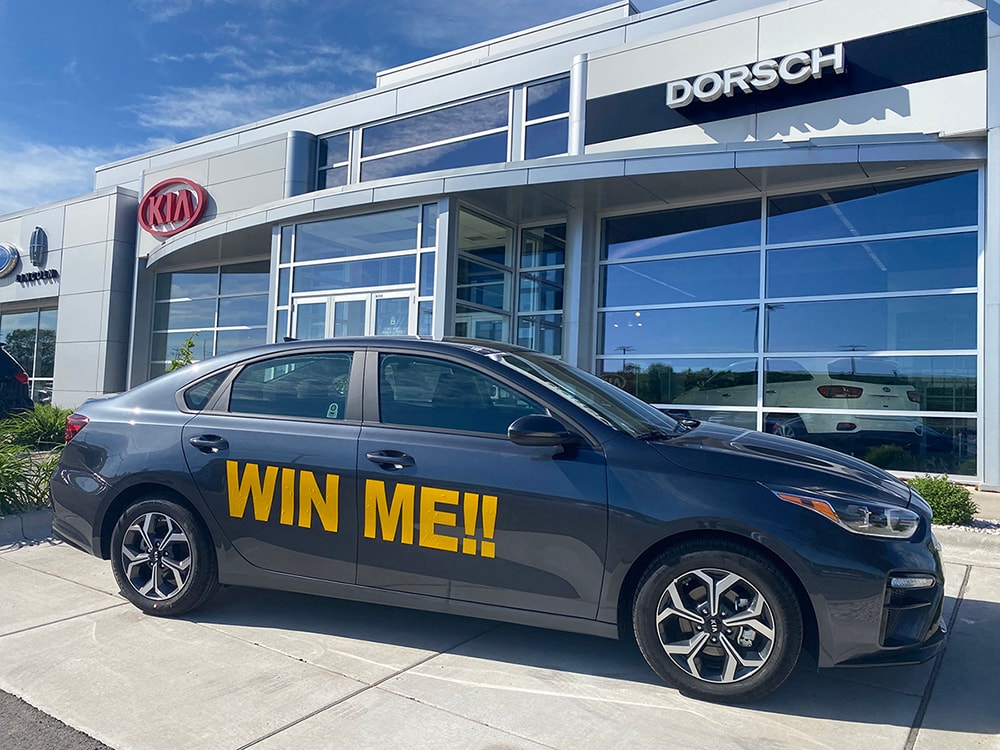 To celebrate our 50th Anniversary, we will be giving away the use of a new 2020 Kia Forte with a two-year, 24,000 mile fully paid lease! Beginning June 15th, we will host a daily prize drawing among people that like us on Facebook with each of the daily winners entered to win the vehicle lease. All daily winners will be invited to attend our customer appreciation event on July 15th, where the winner of the vehicle will be announced. Please encourage friends and family to enter to win by simply liking us on Facebook as well as attend the appreciation event for free refreshments and ice cream! We are excited to have been a part of this community for over 50 years and appreciate your support making this celebration possible.
 Like Us On Facebook For Your Chance To Win:
Vehicle Giveaway Details:
Win the use of a 2020 Kia Forte with a free 2-year, 24,000 mile lease
Dorsch to cover sales tax and license fees as well as free oil changes for two years
Winner may select another vehicle and will be credited the value of the total lease payments ($299/mo or $7,176 including taxes, title, and all fees)
No purchase necessary; no cash alternative
Daily winners / finalists will be selected at random from the cumulative list of all people that like the Dorsch Facebook pages (Dorsch Ford Kia, Dorsch West and Dorsch Auto Credit)

Daily winners will have 24 hours to respond via messenger to confirm their interest and eligibility
Daily winners will be entered to win the grand prize to be given away at the customer appreciation event, with winner selected at live event
Winner must be present on customer appreciation event held 7/15/2020 to win.
Customer Appreciation Event
Dorsch will be hosting a customer appreciation event on Wednesday, July 15th starting at 5:30pm
In addition to the live vehicle lease giveaway, Dorsch will be providing refreshments and have an ice cream truck on location giving away free treats
Family and friends are encouraged to attend
Add our Customer Appreciation Event to your calendar and join us on Wednesday, July 15.

Other Daily Prizes
In addition to the Grand prize vehicle lease giveaway, Dorsch will be selecting daily winners for a variety of daily prizes including a new grill, Ledgestone winery gift cards, Packer Pro Shop gift certificates and more! Find the full daily prize list here.
Daily prize winners will automatically be entered to win the two year vehicle lease, which will be given away live at our customer appreciation event on July 15th
31 Days of Giveaways Winners:
  6/15
 $75 Mr. Brews Taphouse Gift Card
 Brandon Bender
   6/16
 Set of Front Row WeatherTech Mats + Car Phone Holder
Gerald Warrington
   6/17
$50 Uncle Mike's Gift Card
  Nancy Cummings
   6/18
 Free 5k-Oil & Filter Change w/ Tire Rotation + Phone Holder
  Shore Turner
  6/19
 2 30oz Yeti Tumblers + 2 Pool Floats 
 Melissa Stahl
   6/20
3 Free Oil and Filter Changes + Car Phone Holder 
 

 Rick Rolain

  6/21
Gas Grill + Set of Grill Tools  

Tony Brunette

   6/22
Set of Front Row WeatherTech Mats + Car Phone Holder
  Stella Kay
  6/23
$50 Packer Pro Shop Gift Card + Packer Hat + Packer Tumblr 
 Jessie Rabas 
 6/24
 3 Free Oil and Filter Changes + Car Phone Holder 

Lexi Howard

 
  6/25
 $100 Festival Gift Card
 Teresa Diller
   6/26
Ford Apparel/Gift Package
-$100 Value
  John Wauters
   6/27
 $75 Gift Certificate to Ledgestone Winery
Lynn Benson
   6/28
$100 Service Coupon + Car Phone Holder
  Matthew Berry
  6/29
Grill Utensils
+ $50 Festival Gift Card  
 Audrey Sherrill
   6/30
$100 Accessories Coupon + Car Phone
Holder 
 Julie Plamann
  7/1
Amazon Echo
Smart Speaker 

Kevin Coleman

   7/2
Full Detail + New Wipers + Car Phone
Holder

Jake Goebel

  7/3
  Set of Front Row WeatherTech Mats
+ Car Phone Holder 
 Anita Kinnard
 7/4
 Fire Pit + Roasting Sticks
+ S'mores  
  Jeff Fliss
   7/5
 $100 The Day Spa Gift Card
 Abigail J Opicka
  7/6
 Free 5k-Oil & Filter Change w/ Tire Rotation + Phone Holder
 Kalie Elizabeth
   7/7
 $100 Accessories Coupon + Car Phone Holder 
 Dina Zietlow
   7/8
 $50 Amazon Gift Card

Marissa Hohol

   7/9
 $100 Service Coupon + Car Phone Holder

Justin Toney

   7/10
Ford Apparel/Gift Package-$100 Value
 Bruce Salzer

 

 7/11
 $100 Accessories Coupon + Car Phone Holder 
 Lisa Koenig
   7/12
 Round of Golf for 2 at Thornberry Creek Golf Course 
 Melissa Gramlow
   7/13
 Set of 2 Zero Gravity Chairs 
 Jenna Elfe
   7/14
Full Detail + New Wipers + Car Phone Holder
 Rebecca Woodbury
    7/15
Corn Hole Boards + Washer Toss Yard Game

Jessica Yager
Grand Prize given away on July 15th
Basic Terms and Conditions
Winner must be a legal Wisconsin resident over the age of 18 with a valid driver's license, able to take delivery of vehicle
Winner will be responsible for any personal income taxes due to prize winnings as well as responsible to carry full coverage insurance for the duration of the 24 month lease.
Winner is responsible for any lease end charges, such as vehicle damage or over mileage
Employees and members of their household are not eligible to win daily prizes or the grand prize