Go Adventuring in Comfort with a 2018 Kia Sportage
Whether you're leaving Pulaski behind for a week-long vacation or bringing your friends to Joannes Park in Green Bay for a picnic, you'll love the journey in a new Kia Sportage.
The 2018 Kia Sportage is a top choice for drivers who want the versatility, space, and amenities that come with a compact crossover SUV.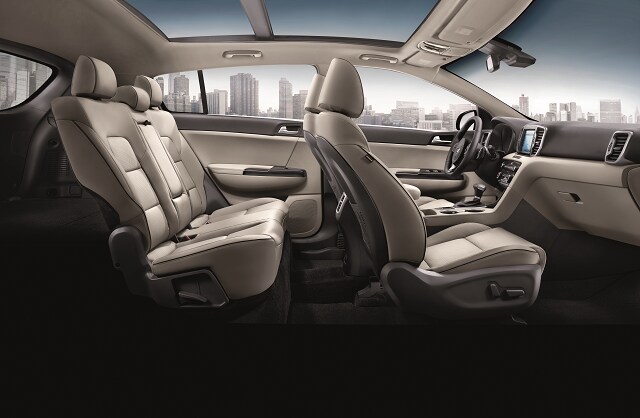 Stylish and Sensible
We love the look of the new Sportage. The clean, sporty design looks good rolling through Howard or in your favorite parking spot at work in Ashwaubenon. It's a sophisticated look, and the top-of-the-range SX Turbo Sportage is particularly attractive, with its unique grille, skid plates, and satin chrome accents.

It's not all form over function, though- the Sportage has great cargo space for taking your dog to the vet in De Pere or picking up some new furniture. You have a lot of space to work with when the seats are folded down, and passengers will enjoy good legroom when the seats are occupied.
The Sportage is trusted by the National Highway Traffic Safety Administration as well as the Insurance Institute for Highway Safety, having earned top marks in crash tests. You can opt for a plethora of driver-assistance features if you'd like an added layer of security and protection on the roads.
Not Just Outer Beauty
Inside, the Kia Sportage gives Green Bay area drivers a host of wonderful technology and comfort features. Standard on every 2018 Sportage you'll find a touchscreen, rearview camera, Bluetooth and USB connectivity, rear privacy glass, and more.
Some of our favorite upgrades and optional features include:
Android Auto and Apple CarPlay
Keyless entry and ignition
Larger touchscreen options
Panoramic sunroof
Heated seats and side mirrors
Check Out the Sporty Sportage Here in Green Bay
The Kia Sportage is a driver favorite around here because it offers great flexibility and you get a whole lot more for your money than most brands offer. We'd love to show you all the things we love about the 2018 model, so please be in touch if you'd like to learn more or go for a test drive!